At Capacity
2020 Astros Foundation - College Readiness Day Baseball/Softball · Any Baseball/Softball
Sold Out Requires Basic Membership
MonTueWedThuFriSatSun 9:00am to 12:00pm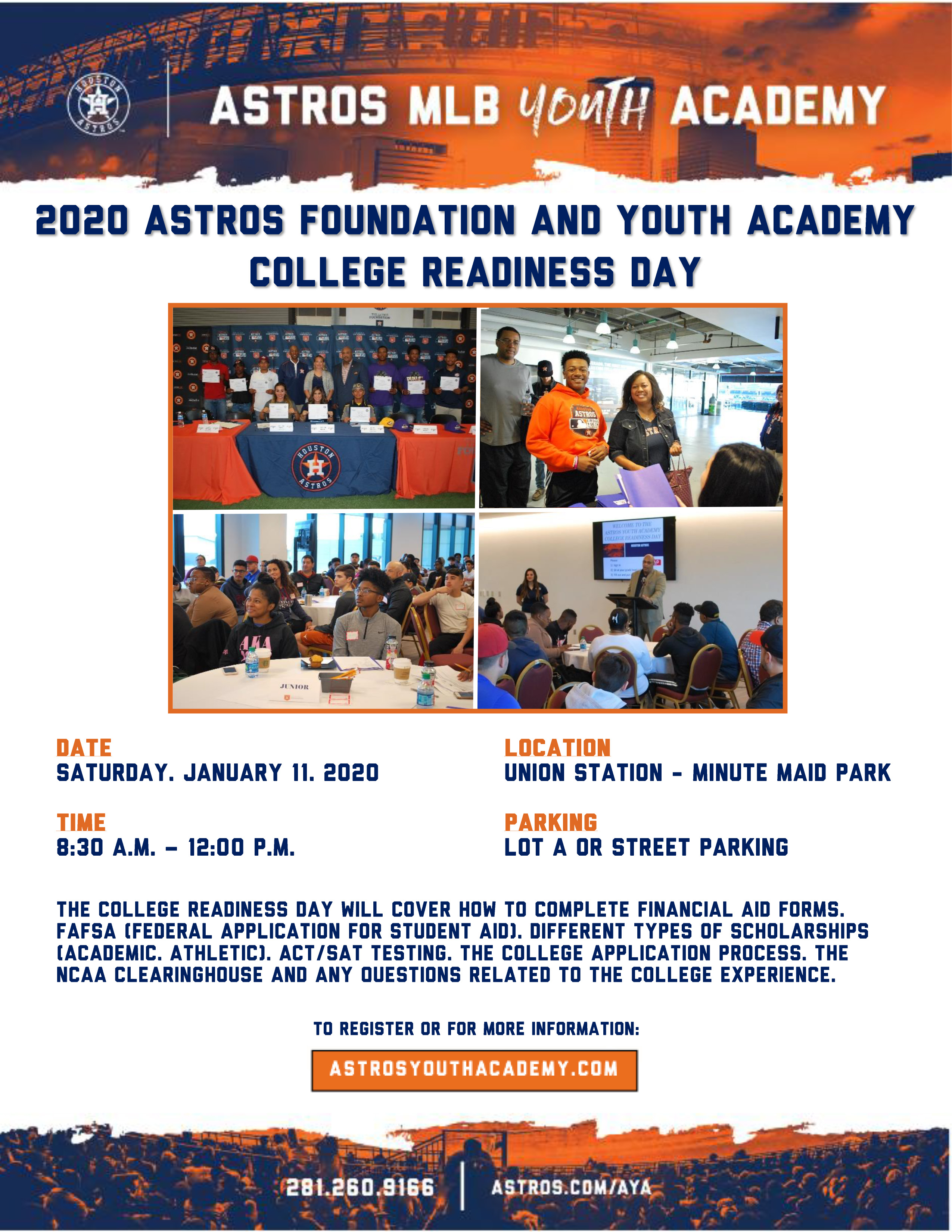 The Astros Foundation and Astros Youth Academy will be hosting a College Readiness Day on Saturday, January 11, 2020. Have you ever thought...how can my son/daughter play baseball/softball in college? If so, the College Readiness Day is for you!!! IT IS NEVER TO EARLY TO START THE PROCESS. The College Readiness Day will cover how to complete financial aid forms, FAFSA (Federal Application For Student Aid), different types of scholarships (academic, athletic), ACT/SAT testing, the college application process, the NCAA Eligibility Center and any questions related to the college experience. Participants in grades 8th - 12th and their parent(s) are invited to attend the college readiness day. The College Readiness Day will be limited to the first 150 participants to sign up. Participants will need to report to Minute Maid Park on Saturday, January 11, 2020 at 8:30 a.m. The Readiness Day will be held in Union Station (corner of Texas St. & Crawford St.) inside Minute Maid Park. Refreshments will be served. Seating will be limited so we ask that ONLY the participant and parent(s) attend the session. Entrance into Minute Maid Park will be the Union Station entrance. There will be no charge for parking and parking for the event will be in Lot A (see diagram) or street parking (free on weekends).
To register for the College Readiness Day please click on the link below or go to the Events section of the website....
http://www.astrosyouthacademy.com/events/1399852-2...