Register
2020 AYA Adult Virtual Learning Support Program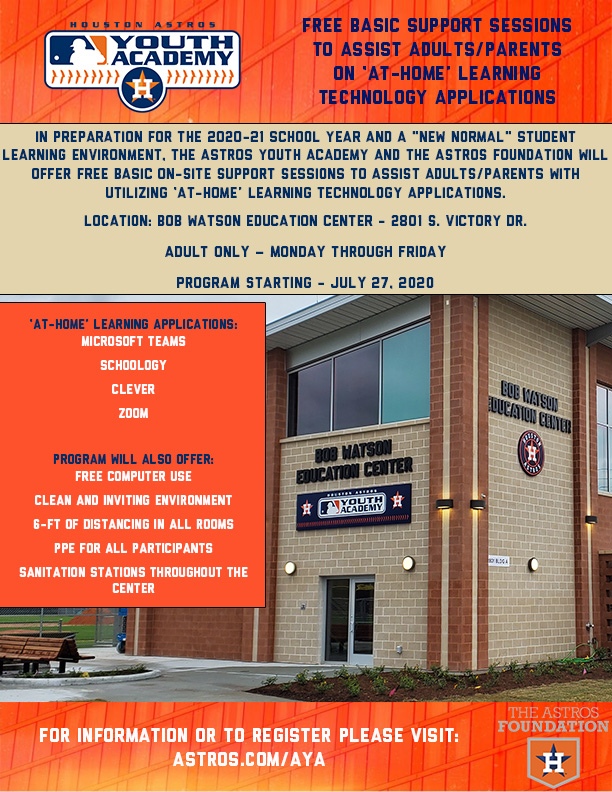 In preparation for the 2020-21 school year and a "New Normal" student learning environment, the Astros Youth Academy and the Astros Foundation will offer free basic on-site support sessions to assist adults/parents with utilizing 'At-Home' learning technology applications.
Support will be for: MicroSoft Teams, Schoology, Clever, and/or Zoom on-line learning applications that students may utilize during the school year. Sessions will be held on-site at the Bob Watson Education Center.
Computers will be available for use for free while at the facility, however to minimize contact points parents are encouraged to bring their own or their child's computers/tablets to use during the session.

If you have any usernames or passwords for applications please bring them with you.
Adult Only - Monday through Friday
Location: Bob Watson Education Center - 2801 S. Victory Dr.; 77088

Program Dates: July 27, 2020 - September 11, 2020

Session Times - 10:00 - 11:30 a.m.; 2:00 - 3:30 p.m.; 6:00 - 7:30 p.m.
Adults can sign up for as many sessions as needed. Sessions will be conducted in English and Spanish.

Due to limited space and social distancing students WILL NOT be allowed into the building or into sessions with parents - Adults ONLY
PPE (Personal Protective Equipment) will be provided to each participant. Health screening and temperature check will be conducted before entering the facility.
To register please click on the link below...
http://www.astrosyouthacademy.com/events/1729108-2...
AYA Staff

Houston Astros MLB Youth Academy
@ Sylvester Turner Park
2801 S. Victory Drive
Houston, TX 77088
(o) 281.260.9166 (f) 281.260.9169
www.astros.com/uya
http://mlb.mlb.com/community/uya.jsp